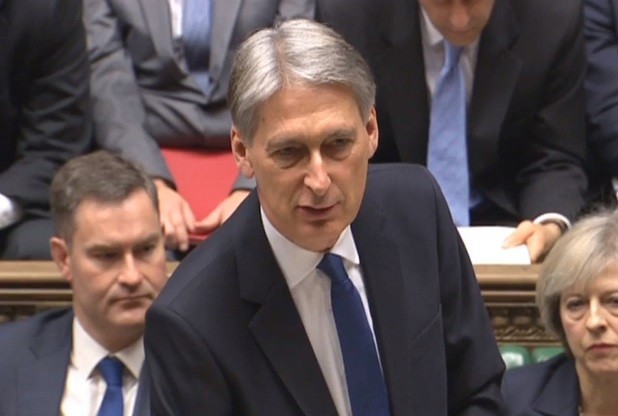 In the midst of economic and political uncertainty, Philip Hammond delivered his first and last Autumn Statement – as the Autumn Statement is now being scrapped – which outlined the first major economic statement from Government since Theresa May took power.
The Quick Version
Overall, our view is that this is an Autumn Statement that, in many areas, said very little new.  Many of the policies announced had already been detailed in George Osborne's last statement.  The major change is the abandonment of Osborne's target to return the UK to budget surplus, and to borrow heavily in order to fund economic growth.  This will put the UK on course to have the largest debt, by percentage of GDP, since the 1960s.  Over the coming years we will learn whether this economic policy proves to be the right one for the UK.
The Details
In his opening statement, Mr Hammond was keen to point out that the UK economy is predicted by the IMF to be the fastest growing major advanced economy in the world this year.  He was also keen to stress that the UK economy is currently enjoying record highs of employment with unemployment sitting at a current 11 year low.
The Chancellor also pointed out that exactly five months ago to the day the voted to leave the European Union and, despite the fear surrounding the Brexit vote, the economy has continued to show fundamental underlying strength.  Whilst on a positive note he pointed out the fundamental strengths of the British economy.   These were outlined as being the global reach of our services industry, the strength of our science and hi-tech manufacturing base and the fact that British businesses are leading the world in cutting-edge disruptive technologies.  He went on to point out that it is vital that as well as celebrating our success of innovation we need to tackle the long-term weaknesses that exist within the economy.
Challenges facing the UK economy were also highlighted such as the productivity gap where we lag the US and Germany by around 30 percentage points.  He also emphasised the housing challenge; namely the huge shortage of affordable housing for first-time buyers.  The chancellor also pointed out the imbalance of economic growth and prosperity across the country, particularly between that of London and the southeast and the rest of the country.
Echoing sentiments that Theresa May has spoken of since taking power, Mr Hammond pointed to the need to build an economy that works for everyone.  The Chancellor also stressed the need to prepare our economy for the impact of exiting the EU and to ensure that we are ready to face the transitional challenges that will undoubtedly face our economy over the coming years.
A critical part of any economic statement are the economic forecasts provided by the Office for Budget Responsibility.  The OBR forecast is for growth to be 2.1% in 2016.  This represents an adjustment upwards from the forecast in March.  However, in 2017 the OBR forecasts that growth will slow to 1.4%.  This is largely attributed to lower investment and weaker consumer demand driven by greater economic uncertainty, and by higher inflation resulting from the drop in the value of sterling against the dollar.
As this uncertainty lifts, the OBR forecasts growth recovering to 1.7% in 2018, 2.1% in 2019 and 2020 and 2% in 2021.  Whilst it is very hard to predict the impact of Brexit on the UK economy, the OBR's current view is that the referendum decision will mean that potential growth will be around 2.4% lower than would otherwise have been the case.
Although these economic uncertainties could provide significant headwinds to the UK economy in the years to come, the UK labour market is forecast to remain robust.  Over 2.7 million new jobs have been created since 2010 and the OBR forecast shows that number growing in every year with an extra 500,000 jobs for working people across the UK.  Although Mr Hammond was keen to praise the previous chancellor, George Osborne, for his tenure as chancellor, he also made some dramatic changes from Mr Osborne's policy, the most notable of these was an abandonment of the target to achieve budget surplus by 2020.  This is due to growing uncertainty and revised slower growth forecast from the OBR.  Mr Hammond announced that he is publishing a new charter for budget responsibility with three fiscal rules:
Public finances should be returned to balance as early as possible within the next parliament. He added that cyclically adjusted borrowing should be below 2% by the end of this parliament.
The public sector net debt as a share of GDP must be falling by the end of this parliament.
That welfare spending must be within a cap. This will be set by the government and monitored by the OBR.
Forecast debt levels were a significant part of Mr Hammond's statement to the UK.  Borrowing in cash terms is set out to be around £68.2 billion this year falling to £59 billion next year, £46.5 billion in 2018/19 before finally falling to £17.2 billion in 2021.  Again, this represents a dramatic change from George Osborne's target of reducing debt significantly over the next few years.  With these new measures, the OBR forecast that debt will rise from 84.2% of GDP last year to 87.3% in the current year.  This level of debt will peak at over 90% in 2017 as the Bank of England's monetary policy interventions or quantitative easing are expected to reach their full effect.  By 2018 debt should be projected to start falling to 89.7% of national income.  If achieved, this would represent the first fall in national debt of a share of GDP since 2001.
Arguably the most important aspect of Mr Hammond's autumn statement was his commitment to prioritise high value investment in infrastructure, innovation and housing within the UK over the coming years.  He said that "Raising productivity is essential for the high wage, high skill economy and it will deliver high living standards for working people".  He announced a National Productivity Investment Fund of £23 billion.  This fund will be spent on innovation and infrastructure over the next five years within the UK.  This fund is set to build on the UK's position as a world leader in science and technology innovations and to ensure that future generations of discoveries are made, developed and produced in the UK.
As well as addressing the need to invest in areas of new innovation, Philip Hammond also unleashed a spending plan to tackle Britain's continued housing problem.  He confirmed a £2.3 billion Housing Infrastructure Fund that will deliver much needed infrastructure for up to 100,000 new homes in areas of high housing demand.  A further £1.4 billion will be invested to deliver 40,000 additional affordable homes.  This will be coupled with continued support for home ownership savings through the Help to Buy equity loan scheme and the Help to Buy ISA.  This, as was announced, is expected to more than double annual capital spending on housing by the current government.
Along with these large scale investments, an additional £1.1 billion of investment in local transport networks will be made, £220 million will be utilised to address traffic problems on strategic roads with £450 million announced to trial digital signalling on our railways in an attempt to improve reliability.
Returning to the theme of Britain's reliance on technology and to maintain our position as a global leader in this space, it was announced that over £1 billion will be invested in Britain's digital infrastructure.  This is primarily to invest in fibre networks and to support the rollout nationwide of 5G over the coming years.  Mr Hammond also pointed out that this investment needs to be maintained over the longer term in order to achieve lasting benefit to the UK economy.
Additionally, to further support the hi-tech industries in the UK, £110 million of funding for East West Rail to deliver the new Oxford to Cambridge expressway was announced.  This is so that Britain's two most highly regarded universities can create a tech corridor between them to transform Britain's position as a hi-tech innovator.  Alongside these investments, a further £400 million will be invested into venture capital funds, which will unlock over £1 billion of new finance for growing firms in the UK.
The Chancellor addressed the imbalance between London and other major areas of growth within the UK and a strategy has been published to address the productivity barriers in the northern powerhouse.  He has given the go ahead to a major programme of roads and infrastructure investment in the northwest to fuel this growth.  He also announced the allocation of a further £1.8 billion from the local growth fund to be distributed amongst the various regions in England.
As was widely predicted, the Chancellor avoided making rash changes to pensions legislation.  He has said that maintaining government promises to those in receipt of a State Pension is important and has promised that the triple lock guarantee has been safeguarded, although for how long remains uncertain.  The one change that has been made in relation to pensions is that the annual limit for pension contributions, once a pension is in drawdown, has been reduced from £10,000 to £4,000.
The insurance industry received welcome news that fraudulent and excessive whiplash claims will be tackled in a bid to reduce the cost of insurance for many UK citizens.  However, he has also increased insurance premium tax from 10% to 12%, which will come into effect next June.
The use of salary sacrifice to fund employee benefits has also been tackled by the Chancellor.  He has stated that use of this practice is unfair and it can lead to certain employees paying lower levels of tax in return for receiving benefits.  He has however excluded ultra-low emission cars, pension contributions, childcare vouchers and the Cycle to Work scheme from any changes to current salary sacrifice practices.
Again, echoing George Osborne's last statement, Mr Hammond has reiterated the government's position that it will be harsh on tax avoidance, particularly that perpetrated by large multinational corporations.  There will be a restriction on tax relief for corporate interest expenses and a reform over the way that that relief is provided for historic losses.  These measures will help to ensure that large businesses always pay tax in years where they make substantial profits in the UK.  They will also be limited in their ability to avoid tax by borrowing in the UK to fund overseas activities.
Mr Hammond reiterated that the nil rate band for personal income tax will rise from £11,000 to £11,500 in April and that this is targeted to increase to £12,500 by the end of the current parliament and that the higher rate threshold will increase to £50,000 over the same timeframe.
As a boost to working families, free childcare for all three and four year olds will be doubled to 30 hours a week for working families from September.  The national living wage will increase from £7.20 per hour to £7.50 per hour in April next year.  This should equate to a pay rise of over £500 a year to someone in full time work.
The Chancellor also wanted to tackle unscrupulous practices by letting agents by banning letting agents from charging fees to tenants as soon as possible.  As more and more of the population are finding themselves unable to buy and therefore reliant upon the letting sector, this move will be welcomed by tenants across the country.  However, many landlords have hit out at this change suggesting that additional fees charged to landlords will simply result in increased rent across the country.  The chancellor recognised that a period of low interest rates have hampered savings, although there have been undoubted benefits for the wider economy.
In order to provide a boost to those who rely on savings income, he will be launching a new savings bond through National Savings and Investments.  The details will be announced at the budget, but he expects the bond to pay an interest rate of around 2.2% over a term of three years.  Individual savers will be limited to £3,000 they can place in this bond, but it is expected that around two million people will take up this offer and benefit from a higher savings rate.