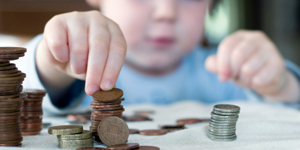 In recent years, housing prices have become steeper and steeper and getting on to the property ladder has become a distant dream for many. Due to these factors, young people have become more and more reliant on the bank of Mum and Dad. Prudent and careful investment planning when a child is young could help ease their future financial burdens.
Investing early and consistently offers the potential to turn relatively small sums of money into a life-changing amounts, thanks to the magic of compounding returns. The natural home for such an investment is a stocks and shares Junior ISA (JISA), as there is no capital gains or income tax charged on any returns made. The  contribution limit is £4,128 a year, and each adult has £20,000 in ISA allowance each year. However, I must point out that the child would have full control of the funds when they turn eighteen.
As a child has an inherently long time horizon, investing most or all of the money in the stock market is likely to be the best option, including in higher-risk areas of the world. Based on long-term averages, I am assuming that this will result in an annualised return of 8% although returns in each individual year will vary.
If you invested £1,600 annually in a JISA for 18 years, that pot would be worth around £65,000. At eighteen, JISA's convert to an adult account and if the money was kept invested until they turned twenty one, it would be worth £87,000. This is easily enough money to put down as a deposit on a first home.
If you are already a knowledgeable investor, you may be comfortable picking a range of funds to make up a diversified growth portfolio. But for parents who aren't sophisticated investors, or not willing to dedicating time to managing the money, I recommend the use of a managed multi-asset fund or a basic global tracker fund. This will ensure the money is invested into a mixture of assets, and the risk is managed by an investment manager.
A multi-asset fund is an all-in-one portfolio that offers broad diversification across global markets and asset types. Different multi-asset funds offer differing levels of risk. A riskier fund might have greater exposure to shares in volatile emerging markets, for instance.
Once a use for the money is set, it is sensible to reduce risk as the point at which it will be needed approaches. The aim of using the JISA would be for the child to begin adulthood with the equivalent of 12 months of income in cash, to prevent them needing to sell investments when markets are unfavourable. Therefore, I recommend from age 16 to 17 I would look at moving the money into cash.
There are other ways to save for children such as trust funds or gifts out of normal income, but the key is to start early and regularly and let compounding do the hard work!
If you have any queries regarding JISA's or regarding your own investment portfolio's, please contact Ben Dyson on 0161 926 9350.