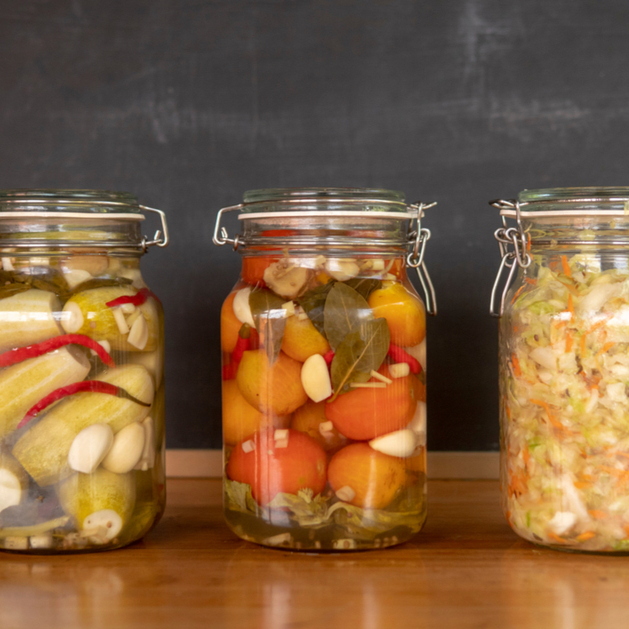 Working from home and keeping the team culture alive can be difficult during these COVID-19 times. But, we have worked hard to make sure we continue in the same way we did in the office.
Part of this has been to keep up the element of team fun and we have found Zoom fantastic for team meetings as well as our team quizzes.  However, they can quickly turn boring, especially when you have one bright spark that keeps winning – namely Sam Hudson!!
Finding something different to keep us all entertained can be tricky,  but a subject that is high on everyone's list at the moment is 'well-being'.  I searched high and low on the internet for online workshops that would be both informative and fun.  Then I remembered that one of our lovely clients used to hold workshops locally at Altrincham Market.
Jules Goddard, the owner of The Plucky Pickle (great name), has been fermenting from a young age – not her personally obviously!  It's a tradition passed down from her Italian grandmother that she is passionate about.  Jules has been asked to talk about her award-winning pickling on TV shows and has a celebrity following on social media.  Her colourful Instagram account directs you to recipes, online courses, workshops, and a webshop that sells out quickly, as well as stockists of her yummy Kimchi, Krauts and Pickles.
If you are looking for something different to do online with your team, family, friends, or just for you then I can't recommend this experience enough.  The feedback from the team has been fantastic, and it is something that they wouldn't have thought of doing themselves.  They are now more informed about gut health and a few are already looking at pickling other veggies.  A word of warning, it can get messy. But what's not to like about that!
To find out more hit  The Plucky Pickle to be directed to the website or @pluckypickle to follow the Instagram page.  If you want to have a chat with me to find out more about what we did you can contact me at lissa.horton@foresight-ifp.co.uk
Happy pickling!