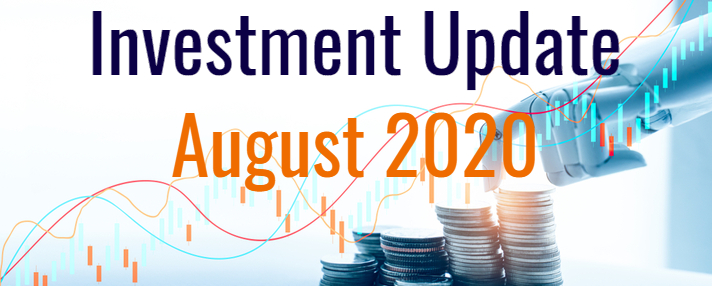 Stock prices started the month strongly thanks to good early results from COVID-19 vaccine trials, better-than-expected employment reports, and higher-than-anticipated manufacturing activity.

In the US, despite multiple States reporting increased COVID infections, stocks continued to climb, especially in large technology. American indices are now back in positive territory for the current year.

These behemoth companies, which dominate the NASDAQ Index, are so large that they now have cash reserves rivaling central banks.  Apple Inc. is now the first company in history to reach a $2 trillion valuation, meaning that the company is now worth more than the total valuations of all the component companies within the FTSE 100 Index.

The US election in November will obviously influence future investment performance. Currently, Biden has a clear lead in the polls, and whilst Biden is likely to raise taxes and be less friendly to big business than Trump, he could ease trade tensions with China.

However, despite Biden's lead in the polls, it is still difficult to call the election and our view remains that the pandemic will be the key determinant of market direction. Given the surprise of the 2016 election, we cannot make any assumptions about Trump's ability to be re-elected.

An ongoing debate seems to be how markets will react when a COVID-19 vaccine becomes available.  Some businesses have been permanently damaged, whereas others may see a sharp recovery. The switch to online shopping is unlikely to reverse.  The moves in oil price have been influenced by both supply and demand, but also a shift away from fossil fuel that will continue.  Other areas, such as leisure and entertainment where fully capitalised, could do well.

The UK market has been a serial underperformer in recent years as Brexit remains at the back of our minds.  Brexit trade negotiations continue without any sign of resolution as we head towards a no-deal exit.

The Bank of England's revised outlook for the UK economy earlier this month showed they still expect a decline of 9.5%.  However, as this figure was previously 14.5%, it has been revised down significantly thanks to better than expected economic results.  Rishi Sunak's Coronavirus Job Retention Scheme helped prevent a steep rise in unemployment but, as this unwinds, the UK will watch with trepidation as to how this affects the underlying unemployment rate.