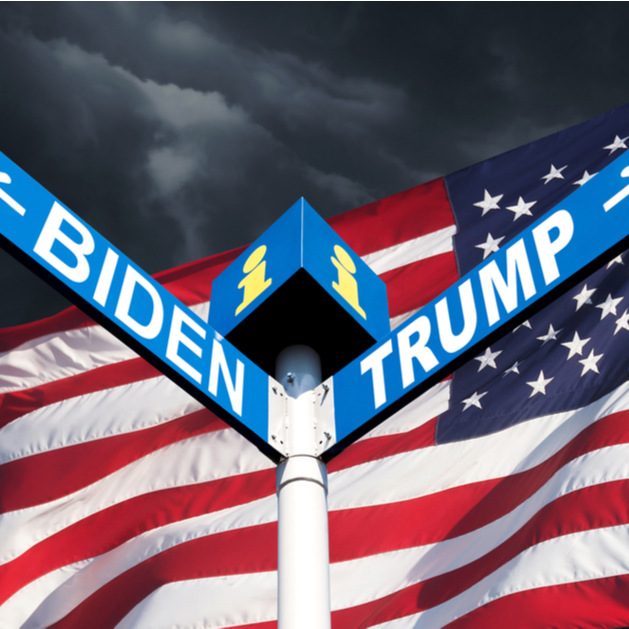 2020 has already turned out to be a year for the record books for all the wrong reasons, with the coronavirus pandemic and global shutdown making most of the headline news.  However, despite the end of the year being near, 2020 still has a few tricks up its' sleeve.  Chief amongst these is the US Presidential Election.
As the dominant superpower on the world stage, US elections have very significant foreign policy ramifications, which is why the world will be watching closely.
Ordinarily, we would expect to see heightened market volatility ahead of a tightly contested US election, especially one where the two candidates have such widely differing approaches to both foreign and domestic policy.  However, despite the political and social tensions market reaction has been sanguine.
One of the key indicators of risk is the VIX, which measures implied future volatility, and is often referred to as Wall Street's fear gauge.  In the immediate run-up to the election the VIX has backed off from recent highs, whilst US futures are pointing to a 150 point rise following gains in Asian and European trading; surprising given how tight this race to the White House is likely to be.
Early polls, suggesting that America would be engulfed by a Blue Democrat Wave, are starting to be overtaken by polling data suggesting it could be more even than first thought.
Although the election takes place on 3rd November, it has the potential to run and run.  Both sides have threatened legal action if they do not get the results they want and Washington DC and other large cities are currently boarded up, such is the expectation of violence in the aftermath of the election.
At Foresight Wealth Strategists we monitor both geopolitical events and macroeconomic indicators.  Our expectation is that any volatility will be relatively short-lived, and valuations will revert after the dust has settled.  As such, we are not taking pre-emptive action.
We will be keeping you up to date with the outcome and any changes to our advice on the back of this.  Watch this space!
If you would like to discuss your portfolio and how the results of the US election may affect it in the meantime, then please contact us and one of our Wealth Strategists will be pleased to review your investment strategy with you.